14.03.2022 / Sozialpolitik (MEA) EN
SHARE Data Release 8.0.0 is now available!
New data set includes SHARE Corona Survey 2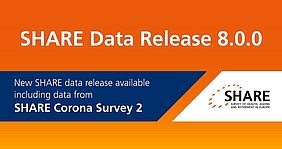 Data from the second SHARE Corona Survey are now available. The second SHARE Corona Survey re-interviewed respondents of the first SHARE Corona Survey enabling to study changes between the start of the pandemic and the situation one year later in a cross-national perspective. The questions covered physical and mental health, Corona-related infections in the personal social circle, quality of healthcare, changes in work and economic situation, social networks and internet use during the pandemic.
Further, Release 8.0.0 comes with some major data improvements: It comprises the latest state of data cleaning and harmonisation across waves, offers new Accelerometry data, including epoch-data, and covers updated special datasets like easySHARE and the Job Episodes Panel.
Furthermore, the release now comprises an update of the German record linkage project (SHARE-RV). The SHARE-RV project links German SHARE data to the records of the German Pension Insurance. The administrative data sources – VSKT (employment histories on a monthly base) and the RTBN (information on pensioners) – are available up to reporting year 2020. SHARE-RV links the administrative data to all German SHARE data up to Wave 8 as well as to the SHARE Corona Survey.
Researchers can download the data free of charge after registration.
You can find all information about >> data access and >> data documentation on the SHARE website.
---
About SHARE:
SHARE, the Survey of Health, Ageing and Retirement in Europe, is a research infrastructure for studying the effects of health, social, economic and environmental policies over the life-course of European citizens and beyond. From 2004 until today, 530,000 in-depth interviews with 140,000 people aged 50 or older from 28 European countries and Israel have been conducted. Thus, SHARE is the largest pan-European social science panel study providing internationally comparable longitudinal micro data which allows insights in the fields of public health and socio-economic living conditions of European individuals, both for scientists and policy makers. SHARE has global impact since it not only covers all EU member countries in a strictly harmonized way but additionally is embedded in a network of sister studies all over the world, from the Americas to Eastern Asia.
The European Commission supports the SHARE-COVID19 research project with funds provided by Horizon 2020 and the Coronavirus Global Response. SHARE is centrally coordinated at the Munich Center for the Economics of Aging (MEA), a division of the Max Planck Institute for Social Law and Social Policy.