23.03.2021 / Sozialpolitik (MEA) EN
10 years of research excellence as a European Infrastructure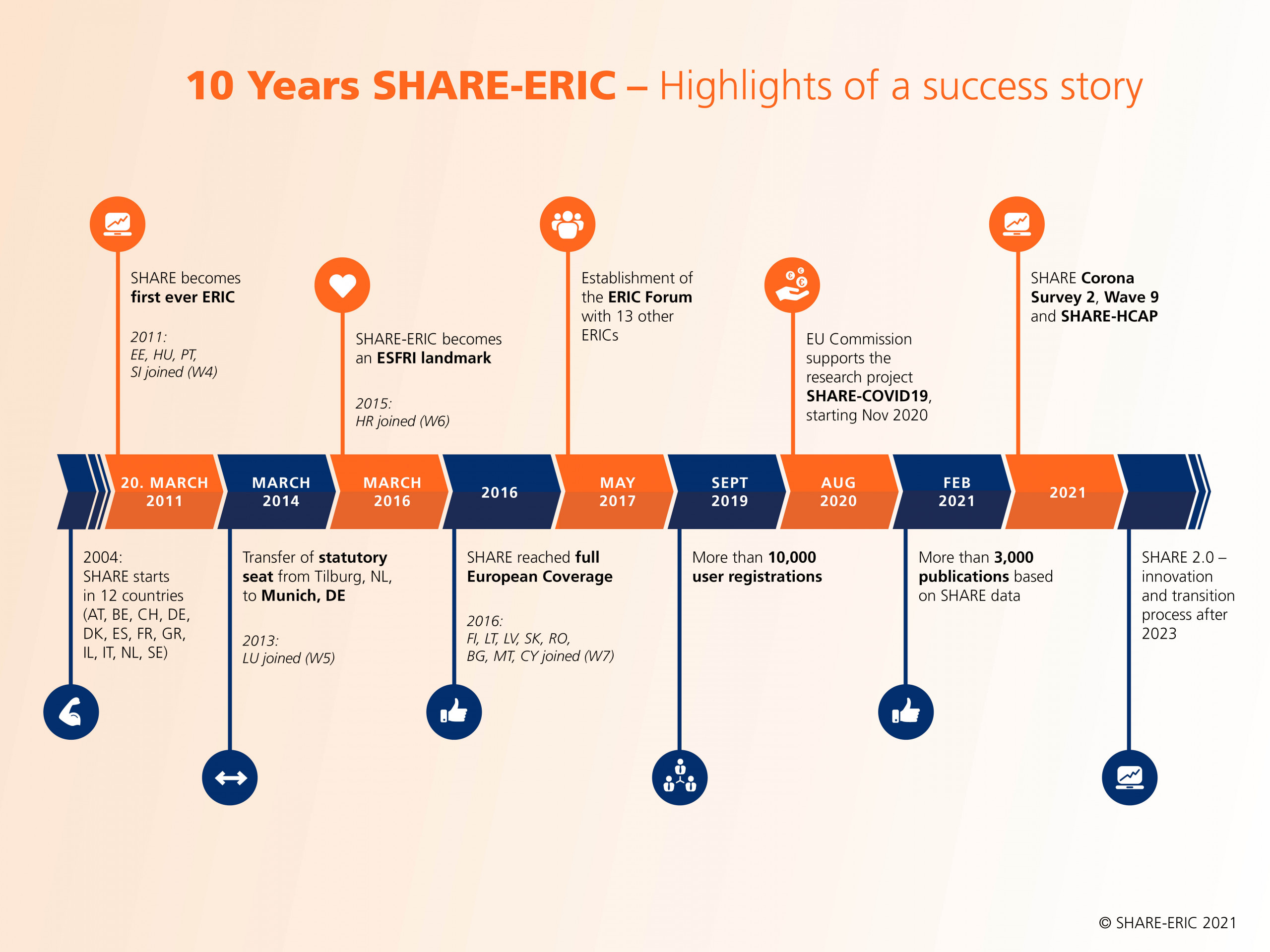 In March 2021, SHARE-ERIC is celebrating its 10th Anniversary as the first European Research Infrastructure Consortium ever. SHARE-ERIC is the legal entity behind SHARE, the Survey of Health, Ageing and Retirement in Europe, which is centrally coordinated by Prof. Dr. h.c. Axel Börsch-Supan, Ph.D. at the Munich Center for the Economics of Aging (MEA) at the Max Planck Institute for Social Law and Social Policy. The establishment as a European Research Infrastructure Consortium assists SHARE in its research activities on highly topical health and socio-economic issues for Europe and beyond.
"SHARE is a unique observatory for policy effects over the life course and for people's reactions to policies and events like reforms and crises. Our aim is to improve people's quality of life with high-quality research on their health and socio-economic living situations and to help making policy reforms more targeted to the needs of people",
says SHARE-ERIC Managing Director, Prof. Dr. h. c. Axel Börsch-Supan, PhD.

SHARE has set new standards in research and scientific data collection: Over the years, it built an operative infrastructure with research teams in 27 European countries and Israel. All continental member states of the European Union participate in SHARE. The survey's large-scale design has encouraged the SHARE team to come up with constant conceptual improvements, bearing plenty innovations in the fields of methodology. Furthermore, SHARE data enabled researchers all over the world to practice in-depth and topical research in a variety of research fields, from biology to demography, economics, epidemiology, gerontology, medicine, psychology, public health, sociology, and more. To date, more than 12,000 researchers in 75 countries are working with SHARE data and have produced more than 3,000 SHARE-based publications. The number of publications and users are steadily increasing. In 2020, SHARE registered one new publication every day on average. Research based on SHARE data can be used as a valuable tool for evidence-based policy making - among others - for the European Commission, the OECD, the WHO and several national governments.
SHARE-based research – a journey through the past 10 years
Please join our journey through SHARE´s research over time and explore selected remarkable scientific results from the past 10 years ago until today.
10 YEARS SHARE BASED RESEARCH (PDF)
>> Read more: www.share-eric.eu